News
UNFPA Executive Director Dr. Natalia Kanem: "I am very grateful to the donors who support UNFPA."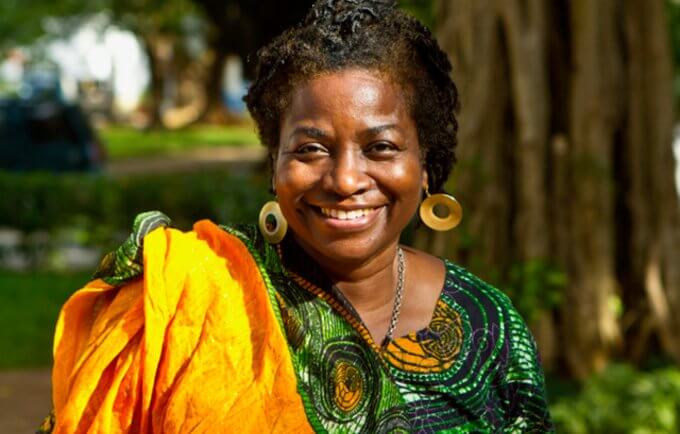 Dr. Kanem recently answered questions about the humanitarian crises that wreak havoc on women's and girls' lives. UNFPA is as resolved as ever to help them survive and thrive. Donors like you make it possible for UNFPA to provide lifesaving sexual and reproductive health care.
Earlier this year, you were in Yemen, home to the world's worst humanitarian crisis. Would you recount your experience?
This was my first visit to Yemen, and the memories will stay with me forever.
Yemeni women and girls have borne the brunt of six long years of grinding conflict, made unimaginably worse by COVID-19 and now the threat of famine. More than one million pregnant women are at risk of acute malnutrition; this number could double if we do not take urgent action. The situation is truly catastrophic.
My mission to Yemen took me to both the north and south of the country. I visited a hospital, a women's shelter, and a specialized shelter that provides mental health support.
I spoke with young girls who had to flee their villages and seek protection at UNFPA sites — among the very few that offer protection for women and girls.
Women and girls face violence
In Yemen, impoverished families are marrying off their young daughters. One young girl I met, Alea*, became a child bride at age 13. Her husband would beat her and when she ran to her father's house, he would also beat her. Her father would chase her back to her husband. She had been living at a UNFPA shelter for over five months, attending workshops and dreaming of returning to school.
I've been in many maternity wards, and they are usually places of joy. But in Yemen, I witnessed the devastation of malnutrition and hunger. Many newborn babies were attached to feeding tubes and their mothers were weakened by fear and exhaustion. One woman I met at a UNFPA hospital said that when she came to receive prenatal care, she was so weak she could not stand straight. When she delivered her daughter, the girl weighed less than 4 lbs.
But even in the midst of the horror, there was hope. I was struck by the true resilience of women who have experienced such horrific trauma. They still hold each other up and look for a better tomorrow. The women and girls of Yemen deserve peace. For too long, they have been caught up in a conflict that is not of their making. Their needless suffering must stop.
UNFPA aims to end the unmet need for family planning, preventable maternal deaths, sexual and gender-based violence, and harmful practices by 2030. How is the agency making up for the ground lost to the pandemic?
COVID-19 has been catastrophic for the health, rights, and safety of women and girls. It's also gravely impacted our ability to respond to their essential needs and make progress towards the UN's Sustainable Development Goals by 2030.
Even before the pandemic, women and girls were already facing staggering inequalities. Now, this crisis and others are making existing inequalities worse. At UNFPA, we need the support of donors like you to keep women and girls safe.
A crisis within a crisis
Violence within the home has skyrocketed. Families are locked in together and women are less able to access services for survivors of gender-based violence. COVID-19 has also disrupted health services. UNFPA estimates that nearly 12 million women globally lost access to family planning services. This lapse in care resulted in as many as 1.4 million unintended pregnancies. We also project that there will be an additional 13 million child marriages and 2 million cases of female genital mutilation that could have been averted over the next decade due to program disruptions.
These setbacks are harrowing. Even in times of crisis – but especially in times of crisis – sexual and reproductive health services must be maintained.
Far from dampening our ambition, however, the pandemic has sharpened our resolve. UNFPA has been on the ground ensuring that essential services remain available. We are empowering women to take charge of their sexual and reproductive health. Our teams around the world took a leading role in delivering reproductive health supplies and providing emergency reproductive health kits and personal protective equipment for health workers.
Still, many countries continue to face serious obstacles to providing these lifesaving commodities. UNFPA works with governments and partners to prioritize and respond to the needs of women and girls around the world
How is the inequitable distribution of coronavirus vaccines affecting the women and girls who rely on UNFPA?
UNFPA has made it a priority to respond to the virus by supporting health systems. We equipped health and social service workers, 70% of whom are women, with personal protective equipment to treat infected patients.
Our offices around the world have found that many women are reluctant to seek essential care in health centers for fear of exposure to the virus. This puts their health at risk.
As the world is witnessing, the fight against COVID-19 is not bound by geography or privilege. The pandemic has made it abundantly clear that we must stand together. Leaving behind certain parts of the world as others become vaccinated is not an option for a sustainable recovery. It will create a breeding ground for variants that vaccines may not fully protect against. And, the suffering of the most marginalized, including women and girls, will be prolonged.
We must work together to ensure that vaccines are accessible in all countries, starting with healthcare workers and those most at risk. I join the UN Secretary-General in calling on the international community to do their part to distribute vaccines equitably.
Is there anything you would like to say to USA for UNFPA donors —most of whom are Americans who helped UNFPA in the years when their government didn't?
I am very grateful to the thousands of USA for UNFPA donors who have supported, and continue to support, UNFPA. It strengthens our resolve to see so many show up for women and girls, especially over this past year. It has been an incredibly challenging time for everyone, but especially women and girls. When funding stops, women and girls suffer. This is especially true for the poor, those living in remote, underserved communities, or those caught in humanitarian crises.
There has been and remains a pushback on UNFPA's mission and mandate, but there is a stronger push forward. The staunch support we've received from USA for UNFPA donors over the years is evidence of that. You know what we, at UNFPA, have been saying for years: the rights and health of women and girls are not negotiable. There is no time to lose and we must work together to reach our ambitious goals.
Making a stand for women and girls
UNFPA shows up for women and girls at the most challenging times in the most challenging settings, and we wouldn't be able to do so without your support. COVID-19 has threatened decades of progress in women's health and rights. Maintaining strong partnerships, like ours, is crucial.
With stable funding and support from donors, we can stop women dying needlessly in childbirth, end the unmet need for contraceptives, and eradicate all forms of violence against women and girls. We can ensure that every girl grows up healthy, educated, empowered, and safe, with full bodily autonomy so that she can achieve her full potential.
Together, let's not stop until we make that world a reality
Your support delivers care to women and girls when they need it most.
---