News
UNFPA & the War in Ukraine: 6 months of Support for Women and Girls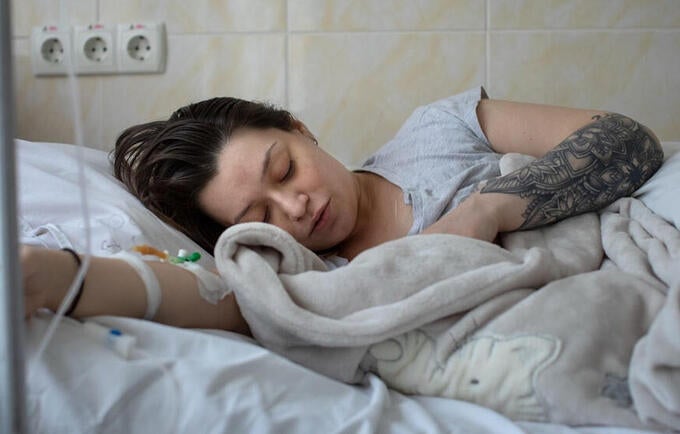 Pregnant women giving birth in bomb shelters. Scores of refugees fleeing at the border or waiting at packed stations in the bitter cold to board trains. Women and girls in need of support are enduring trauma and violence. The realities of six months of war in Ukraine have impacted the lives of millions. And the war rages on.
UNFPA has been on the ground from the beginning of the crisis, providing critical resources and care in Ukraine and surrounding countries. Staff members have been working daily in collaboration with Ukrainians and local, national, and international organizations.
Our staff members immediately stepped up, building on the decades-long connections UNFPA has established there. They brought much-needed supplies and services to a population that has shown incredible resilience in the face of war.
UNFPA: On the Ground in Ukraine
Jennifer Chase and Danielle Jurman are two UNFPA staff members from the United States who have been in the shelters, at the border, train stations, and elsewhere. They have been leading with compassion and empathy delivering initiatives with significant impacts on women, girls, and families in need.
Jennifer Chase — Strengthening Support for Survivors
Jennifer Chase is the Global Coordinator for Gender-Based Violence (GBV) at the UN's Office for the Coordination of Humanitarian Affairs (OCHA). Originally from Ohio, Jennifer has spent the last 20 years working for human rights in multiple countries including Kosovo, Ukraine, Colombia, and Sudan.
She returned to Ukraine after the invasion to support survivors of rape and physical assault, and others at risk during wartime. Jennifer was based in Lviv but also traveled to the Ukraine-Moldova border.
She worked in collaboration with UNHCR, UNICEF, other international organizations, and local Ukrainians to support those who had been displaced.
Across the border in Moldova, safe spaces and mobile teams offer women and girls immediate support and counseling. These spaces serve as an entry point for services and referrals related to violence against women and girls and sexual and reproductive health. Since the start of the war, thousands of survivors have accessed care in safe spaces.
UNFPA continues to coordinate with 27 facilities for survivors of violence. This includes shelters, crisis rooms, daycare centers, the national hotline, and 101 psychosocial mobile teams.
The resilience of the women and girls surviving the war and the staff working to serve them inspired Jennifer.
"When I visited the shelter, we had the psychologist, the accountants, the admin people, the caregivers. All of us cook, all of us clean," she said. "We want to make sure that the women who come here with their children are safe, can get their documents, and don't have to worry about basic things. The women were crying because of their situation but also because of their support. It was such a relief for them after the hardships they had faced."
Danielle Jurman — Distributing Critical Supplies
Danielle Jurman is the Humanitarian Supplies Analyst with UNFPA's OCHA. She grew up in New York and had been working with UNFPA for the last seven years in Geneva, Switzerland. Deployed to Ukraine in the early days of the war, she was originally assigned to be in the country for two weeks. She stayed on to serve the needs of Ukrainians for two months.
When Danielle first arrived in Ukraine from Poland, she was struck by the hundreds of Ukrainians crossing the border. The incredible cold. The mass amounts of people fleeing for their lives. The confusion and uncertainty. She felt a deep connection with them — and a desire to help.
Delivering care in crisis
Danielle worked with multiple interagency partners on supply chain logistics, security, and integration to distribute quality lifesaving supplies where they are needed most. UNFPA's existing connections and work in Ukraine served as a launching pad to meet the rapidly expanding health needs.
"UNFPA has been working in Ukraine for decades, supporting the government to expand access to reproductive health care and services for women and girls at risk of or being subjected to violence," Danielle explained.
Since the onset of the invasion, UNFPA has distributed over 97 metric tons of essential health equipment. UNFPA has also provided supplies to 37 hospitals with maternity centers across Ukraine and Moldova.
These supplies include dignity kits, which contain items like underwear, soap, laundry detergent, menstrual pads, and a toothbrush. Dignity kits ensure that women and girls can manage their periods, during a time of massive uncertainty. UNFPA has distributed over 25,000 kits.
In shelters, crisis rooms, and care centers across Ukraine, life-changing events happen every day.
"One of the things I love about working for UNFPA is that even in the middle of devastating war or disaster, childbirth is often the happiest day of people's lives," Danielle said. "We get to be a part of that; ensuring it is a life-changing, as opposed to a life-threatening, experience."
You Have the Power to Change Lives
At the half-year mark of the war in Ukraine, the lifesaving work of Jennifer, Danielle, and UNFPA continues. Their stories — and the resilience and strength of Ukrainians — are moving inspirations. Already, 6 million people have received care.
The power to impact and change lives is in all of our hands. Every single act matters. Together, we can be there for women and girls in Ukraine.
Danielle's wish: "I hope that Americans, and others from around the world, can take the human empathy, care, and support we have shown to the Ukrainian people and apply those feelings and actions in support of all people surviving war or disaster around the world."
Make a gift today to support the work of UNFPA staff members like Jennifer and Danielle. Reach women and girls with lifesaving sexual and reproductive health care. Donate.
Be there for women and girls when they need you most.
---