News
Pandemic heightens vulnerabilities of persons with disabilities who require reproductive health care
UNITED NATIONS, New York/FRANCISTOWN, Botswana, RAWALPINDI, Pakistan – Even under normal circumstances, persons with disabilities face discrimination, high rates of gender-based violence, and exclusion from services and decision-making. Today, as the COVID-19 pandemic spreads around the world, the vulnerabilities and barriers faced by people with disabilities are only growing.
The pandemic and responses to it are projected to have a significant impact on women and girls, including higher incidence of gender-based violence and loss of access to life-saving health services.
The concerns are heightened for young people with disabilities, who are nearly three times more likely to experience sexual violence than people without disabilities, and who are at risk of being left behind in the crisis response.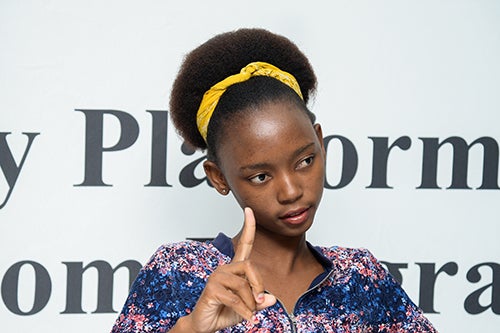 "In times of crisis, like COVID-19, persons with disabilities face more barriers to accessing information, education and services and are often overlooked in emergency response," said Leyla Sharafi, UNFPA's gender adviser.
"At the same time, resources and attention may be diverted from sexual and reproductive health services, and gender-based violence, especially for women and girls with disabilities, increases due to social isolation, disruption to daily routines, and the fact that caregivers may not be able to reach them," Ms. Sharafi said.
Vulnerabilities heightened for people with disabilities
Globally, 1 in 7 people are living with a disability – roughly 1 billion people. Yet their needs are too often overlooked.
They commonly face barriers to sexual and reproductive health services, for instance. In addition to facing stigma and discrimination, they may have challenges securing transportation or communicating about their needs.
"Accessing condoms and other contraceptives is quite difficult for us because there is a huge communication barrier between us and those assisting, if they do not understand sign language," said Keoleboge Khumoetsile, a young woman with a hearing impairment, at a meeting on the sexual and reproductive health needs of people with disabilities in Botswana, held earlier this year. "We feel neglected and this puts us at a greater risk of contracting HIV, other STIs and unplanned pregnancies."
People with disabilities may even have their rights violated. Indira*, a woman with a visual impairment in Kazakhstan, says she was forced to end her pregnancy and undergo sterilization several years ago. "When I was five months pregnant I was tricked into going to the hospital. My pregnancy was terminated, and my fallopian tubes were tied. I didn't even give my consent to that," she told UNFPA.
She says she feels especially vulnerable today, as her family grapples with the pandemic. Quarantine measures mean she cannot go to her job as a masseuse, and the financial pressures are generating tension in the home she shares with her parents. "Relationships with my family members got worse… On the fifth day, our argument got physical," she described.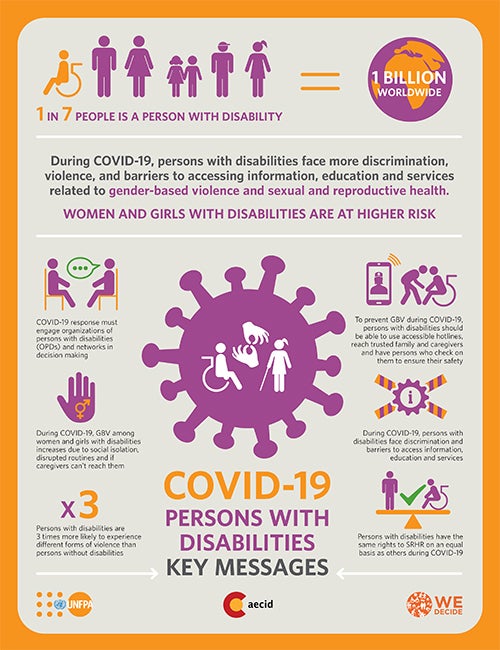 Listening to people with disabilities
In a time of pandemic, policymakers must consider these needs, and they must make efforts to involve disabled persons' organizations and networks in decision-making.
Information about COVID-19, infection control efforts and public health measures must be accessible to people with disabilities. And efforts must be made to ensure people with disabilities retain the support of essential caretakers and trusted service providers.  
Protection from gender-based violence must be a priority for persons with disabilities. This means hotlines and protection services must be accessible, and health and justice personnel must be compassionate and knowledgeable.
"During quarantine, women with disabilities are left even more isolated and prone to gender-based violence," said Abia Akram, an activist for the rights of women living with disabilities, living in Pakistan's Punjab Province.
There, UNFPA is helping to upgrade the Women Safety smart app, an initiative of the Punjab Safe Cities Authority, which helps women report violence and their location coordinates to the police via emergency helpline or WhatsApp message. Response teams are mobilized immediately. Women can also find safe spaces or referrals to services through the app.
As part of the upgrade, UNFPA and local authorities are engaging people with disabilities to ensure the app accommodates their needs and responds to their concerns. Listening to these voices can make all the difference: "During the COVID-19 pandemic the Women Safety app provides me with a sense of security and much needed access to emergency services," Ms. Akram noted.
"Those involved in COVID-19 response must partner with persons with disabilities in developing response plans, so that information is accessible and persons with disabilities do not face discrimination in service delivery during COVID-19," said Ms. Sharafi.
*Name changed for privacy and protection
A version of this story was originally published on unfpa.org.
Your regular gift ensures that the most vulnerable women and girls will always have access to reproductive health care.
---