News
In Lao PDR, midwives provide life-saving and culturally competent care to the country's ethnic communities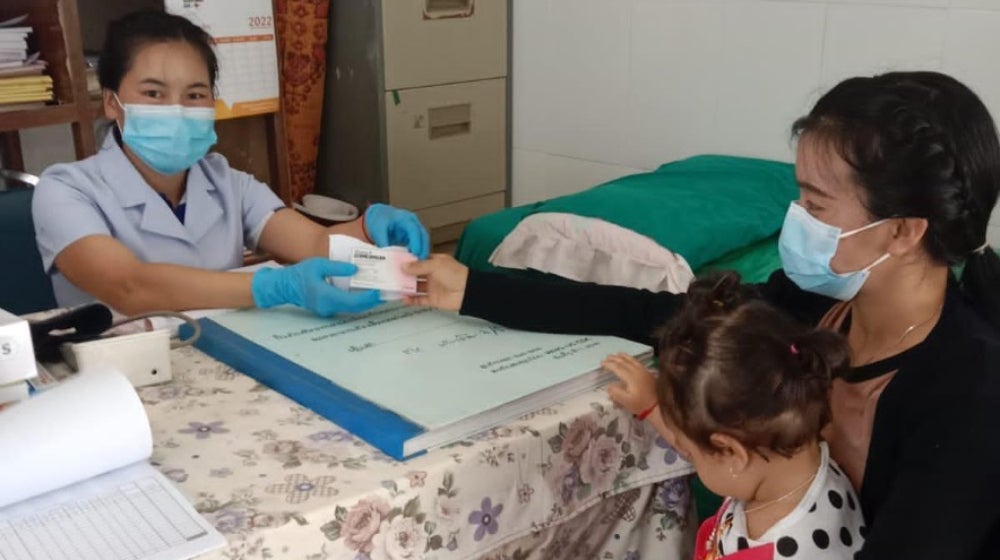 LONG DISTRICT, Lao People's Democratic Republic – "In the past, Akha women gave birth without assistance and did not come to health centres. Most of the pregnancies were unsafe," says 28-year-old UNFPA midwife Vida.
Vida is a member of the Akha ethnic group, which makes up less than 2 percent of Lao PDR's population of 7.4 million. Based out of Long District Hospital in Luang Namtha Province, Vida graduated from a UNFPA-supported midwifery program in 2017. 
As an Akha midwife, Vida joins a growing number of health care workers in Lao PDR combining world-class training and cultural insights to serve women from the country's dozens of ethnic communities. Many of these communities have historically faced maternal health risks due in part to the practice of home births.
According to a 2017 survey, more than one-third of births in Lao PDR happen without the support of a midwife. This shows both how common traditional birth practices are as well as continued hurdles to accessing care at clinics. Many live far from health centres, or lack transport to get to them. Language barriers and cost also deter women from seeking care. 
"I encourage women to give birth at health facilities to keep mothers and babies safe," Vida says.
Births without the assistance of skilled health-care professionals put women at risk of deadly complications. In Lao PDR, 185 mothers die per 100,000 live births – the fourth-highest such rate in the Asia-Pacific region.
Well-trained midwives can prevent about two-thirds of maternal and newborn deaths, according to the 2021 State of the World's Midwifery report. Unfortunately, in Lao PDR, as in many other countries around the globe, midwives are in limited supply.
UNFPA Executive Director Dr. Natalia Kanem spoke to midwives' essential role in society – and their scarcity.
"Let's close the midwifery gap and build a strong global reproductive health workforce — adding one million more midwives," she urged.
Midwives save lives
Despite the challenges, the presence of women like Vida represents major progress. In 2007, there were just 100 midwives working in Lao PDR, according to Ministry of Health data. 
UNFPA has been working with the government to support the training and deployment of midwives across the country. This work is especiallyimportant in rural areas, where two thirds of the population resides. This partnership has created a workforce of over 1,800 midwives in 2020. 
These efforts have led to significant improvements in women's and mother's health. Lao PDR's maternal death ratio dropped to 185 deaths per 100,000 live births in 2017 from 357 deaths per 100,000 live births in 2012.
Delivering more than safe births
And midwives do far more than assist pregnant women with labour.
Vida, for instance, partners with district teams to conduct outreach in the villages around Long District Hospital. There, she raises awareness on topics like contraceptives and prenatal care. She also debunks harmful norms – such as the belief that giving birth to twins is bad luck. 
Along with other midwives from Lao PDR's minority ethnic groups, Vida shares her knowledge while keeping their community's unique circumstances in mind. Some of these midwives, like Vida, have returned to their home villages to practice.
"I encourage Akha women to breastfeed for at least six months," she says. Many Akha women, she explained to UNPFA, had been reluctant to do so in the past due to the challenge of balancing the practice with other duties, such as farming. 
When difficult cases arise, they can connect via helpline to discuss and develop response strategies. This approach has helped bridge the gap between Vida's community and maternal health care services – overcoming an often formidable language barrier. 
"Since we have Akha midwives, Akha clients are comfortable to come and seek support," Vida says. "The proudest moment for me is seeing women give birth at a health facility assisted by qualified health personnel, so they don't suffer any complications."
For the health and
dignity of women and girls
---